Archive for the 'Buyers Guide' category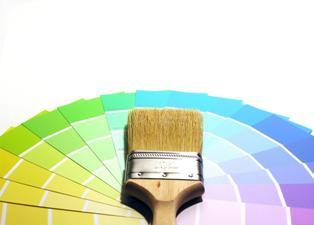 Since we all know that your home is the biggest investment you will probably make in your lifetime, maximizing its value is very important. One very simple way, and also most overlooked, is choosing the right paint colors! Seems minimal right? Not necessarily. Most people get very overwhelmed with what color and shade is the right one for their home. Here are some tips to steer you in the right direction.
** Since color is an effective way of giving your home a quick fix makeover and won't make a huge dent in your wallet, doing a little research goes a long way.
** When deciding the right wall color, make sure it complements your furnishings and allows them to be the focal point of the room.
** Stick to one color family. Using a lighter and darker shade of the same color allows you to highlight the features you love most about your home. Different colors may clash and distract from the architectural details.
** Are you distressed because you have a small space and don't know what to do with it? No worries! Focus on using shades of white and cream. These shades add size and openness to even the smallest of spaces.
** Is your style bold and daring? Using a valiant color on one wall of the room may give it a chic look. But be careful, you want to make sure it coordinates with your furnishings as well.
** If you are dealing with a rental property, you are going to want to steer away from my last tip! Make sure you use neutral shades. It is also wise to stick with one color. This will blend well with most lifestyles, work well with different furniture and color schemes and also gives the apartment a spacious look.
Investing in the upkeep of painting your home is not only rewarding, it will definitely increase the value and in the end you will get a better price if you are thinking of selling.
Posted at 06/01/2011 01:28 PM
Categories:
Painting
,
Remodeling
,
Renovation
,
Selling my Home
,
Tips
,
Construction
,
real estate
,
Moving Tips
,
Rentals
,
Real Estate Blog
,
Buyers Guide
,
Buying a Home
,
Tips for Buying a Home
,
Boston
,
Cambridge
,
Moving to Boston
When trying to sell your home don't forget about how important even the smallest of details can be. A great article from the New York Times discusses how Jamella Swift, an NYC broker, learns that ignoring details can really decrease the value of the home.
Clutter: Subtract 5-15%
Fresh towels and throw pillows: Add $25,000
Dirty rugs: Subtract $5,000
Regrouting tile: Add $100,000 (don't forget we're talking about a $3 million listing in NYC)
New Fixtures and appliances Add $250 in rent
New Lights: Add $32,500
Replacing cabinets: Add $107,000
An expensive shoe closet: Worth every penny!
Check out the full article here
Posted at 02/28/2011 12:12 PM
Categories:
Tory Row Real Estate
,
real estate
,
Moving Tips
,
Rentals
,
Real Estate Trends
,
Realtors
,
Real Estate News
,
Real Estate Blog
,
Selling my Home
,
Buyers Guide
,
Buying a Home
,
Tips for Buying a Home
Buying a home can be one of the biggest purchases you will make in your life. With that said, you want to make sure you're prepared, educated, and ready to make the commitment. Here are some things to watch out for when starting the process.
1. Dealing with Lenders
When borrowing money you want to make sure you calculate your total monthly costs. Before you house-hunt, find out the tax and insurance rates for homes in your price range. Don't forget about condo fees, loan, tax, and insurance payments.
Another important factor is to shop around! You want to talk to at least two lenders to make sure you are getting a competitive loan. Remember interest rates can vary not only daily, but sometimes a few times a day! Make sure your lender is giving you the highest quality advice.
2. Find the Right Lawyer
Real estate law varies by state. It also can get even more localized by the neighborhoods. You want to hire a real estate attorney in or near the town you want to buy in.
3. Inspections
The most important aspect of choosing your home inspector is to shop around and ask for referrals. Home inspectors know a lot about houses, but they can't see inside the walls or dismantle the house. They can't even give you an estimate. (That's what contractors are there for) Both are very important to the purchase of your home, so you want to make sure you're getting the best for your money.
4. Our own Mistakes
The biggest thing that you need to understand as a buyer, is how much time and how big of a commitment it is to buy a home. A lot of work is put into making your final decision. Expect some stress, and remember to give yourself some slack! Finding the right agent to balance out your personalities is one of the best things you can do in successfully buying a home.
5. Location
The location of your home is the one thing you cannot change. You want to make sure you really love the location and want to live there. Don't just settle; you could be living there for a very long period of time. Don't forget to consider different weather conditions. Is that hill up the driveway going to be too much of a pain in the winter? Can you handle living with the sounds of the city nightlife? You decide.
6. Price
Make sure you do out all your calculations. When dealing with such large numbers such as $500,000, another 2 or 3 thousand doesn't seem like much. However, at 6.125% interest, its about $30/month, but becomes $10,800 over the term of the loan. It pays to do out all the calculations!
Do you have any stories to share that would help our fellow buyers? What were your experiences?
Happy Hunting! Remember Tory Row Real Estate is always here to help in any way we can!
Posted at 02/21/2011 02:38 PM