Archive for the 'Construction' category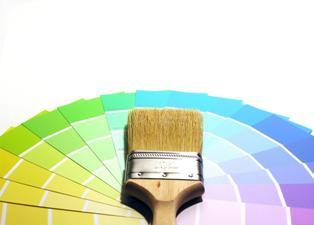 Since we all know that your home is the biggest investment you will probably make in your lifetime, maximizing its value is very important. One very simple way, and also most overlooked, is choosing the right paint colors! Seems minimal right? Not necessarily. Most people get very overwhelmed with what color and shade is the right one for their home. Here are some tips to steer you in the right direction.
** Since color is an effective way of giving your home a quick fix makeover and won't make a huge dent in your wallet, doing a little research goes a long way.
** When deciding the right wall color, make sure it complements your furnishings and allows them to be the focal point of the room.
** Stick to one color family. Using a lighter and darker shade of the same color allows you to highlight the features you love most about your home. Different colors may clash and distract from the architectural details.
** Are you distressed because you have a small space and don't know what to do with it? No worries! Focus on using shades of white and cream. These shades add size and openness to even the smallest of spaces.
** Is your style bold and daring? Using a valiant color on one wall of the room may give it a chic look. But be careful, you want to make sure it coordinates with your furnishings as well.
** If you are dealing with a rental property, you are going to want to steer away from my last tip! Make sure you use neutral shades. It is also wise to stick with one color. This will blend well with most lifestyles, work well with different furniture and color schemes and also gives the apartment a spacious look.
Investing in the upkeep of painting your home is not only rewarding, it will definitely increase the value and in the end you will get a better price if you are thinking of selling.
Posted at 06/01/2011 01:28 PM
Categories:
Painting
,
Remodeling
,
Renovation
,
Selling my Home
,
Tips
,
Construction
,
real estate
,
Moving Tips
,
Rentals
,
Real Estate Blog
,
Buyers Guide
,
Buying a Home
,
Tips for Buying a Home
,
Boston
,
Cambridge
,
Moving to Boston