Archive for the 'Tips' category
We're in the throes of winter, the Patriots aren't going to the Superbowl and though our state's economy has bright spots and the unemployment rate is holding steady, by all accounts we're still in recovery mode. So, is there anything especially hot in Boston these days? Indeed there is, and that something is the local rental market.
The demand for rental units in the Boston/Cambridge/Brookline area is huge right now, and this represents a big shift. Historically, Q1 was an inopportune time to rent property – a small pool of potential tenants combined with lower monthly rents created a less than ideal environment for landlords .But, those days are long gone. If you're in the market for an apartment, read on!
Here are a few tips to help you find an apartment in today's tight market:
Start Early – You'd be amazed how many people wait until the 11th hour to start looking. Especially true in a tight rental market, you're setting yourself up for disappointment (and lots of unnecessary stress!) if you procrastinate. Some good first steps are to ask around for referrals to trusted rental agencies; contact agents and introduce yourself – you'll want to get on their radar screen when an apartment comes available! In your free time explore the general areas you think you want to live. While we think having an open-mind is a good thing (especially in this market!), it's helpful and saves time down the road if someone has a general idea where they want to be.
Build a Good Relationship With Your Agent – It goes without saying that you should feel comfortable and enjoy working with your rental agent/agency. It's also important to be open with them about each and every one of your needs. Don't worry, we've heard it all……What are your must-haves, can't live without? Need to be near a specific subway line or bus route? Don't just say you want to be close to 'public transportation'. Would you be comfortable if you had to share laundry facilities or do you need your own washer/dryer? Are there any space requirements? No stairs, 2nd floor only, won't do basement apartments, etc. In addition to your must-haves, don't forget to communicate your "nice-to-have" list……..One of the nice things about working with an agent is that you have access to their guidance and advice – they know what's out there and will help bring you back to reality if there's a large gap between it and your wishful thinking. Your rental agent is your partner; the more information they have to work with the better (and faster) they can help you!
Be Ready To Sign A Lease – It's not a scare tactic – apartments are going off the market in record time! While you should never do anything without taking the time to make a well-informed and responsible decision, in today's market it's unlikely you'll have time to just "wait and see". That said, have your finances squared away (factor in first month, security deposits, fees, etc), be ready to provide referrals and have their updated contact information on-hand, try and clean up any blemishes on your credit report you feel are inaccuracies, etc. As with most things, being prepared is key!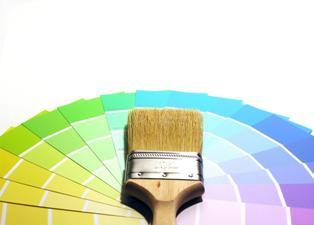 Since we all know that your home is the biggest investment you will probably make in your lifetime, maximizing its value is very important. One very simple way, and also most overlooked, is choosing the right paint colors! Seems minimal right? Not necessarily. Most people get very overwhelmed with what color and shade is the right one for their home. Here are some tips to steer you in the right direction.
** Since color is an effective way of giving your home a quick fix makeover and won't make a huge dent in your wallet, doing a little research goes a long way.
** When deciding the right wall color, make sure it complements your furnishings and allows them to be the focal point of the room.
** Stick to one color family. Using a lighter and darker shade of the same color allows you to highlight the features you love most about your home. Different colors may clash and distract from the architectural details.
** Are you distressed because you have a small space and don't know what to do with it? No worries! Focus on using shades of white and cream. These shades add size and openness to even the smallest of spaces.
** Is your style bold and daring? Using a valiant color on one wall of the room may give it a chic look. But be careful, you want to make sure it coordinates with your furnishings as well.
** If you are dealing with a rental property, you are going to want to steer away from my last tip! Make sure you use neutral shades. It is also wise to stick with one color. This will blend well with most lifestyles, work well with different furniture and color schemes and also gives the apartment a spacious look.
Investing in the upkeep of painting your home is not only rewarding, it will definitely increase the value and in the end you will get a better price if you are thinking of selling.
Posted at 06/01/2011 01:28 PM
Categories:
Painting
,
Remodeling
,
Renovation
,
Selling my Home
,
Tips
,
Construction
,
real estate
,
Moving Tips
,
Rentals
,
Real Estate Blog
,
Buyers Guide
,
Buying a Home
,
Tips for Buying a Home
,
Boston
,
Cambridge
,
Moving to Boston